I lived in Skadovsk for over 30 years. For a long period of time she worked in educational institutions, served as director of the local House of Culture, where she taught acting, and is a co-founder of BIGEPPLE LLC.
She also worked as a toastmaster at pro-Russian rallies, where she popularized the "Russian world" and the "Pobedobesie" movement.
For her appointment, Tatiana Leonidovna had to secure the support of the so-called "head of the Republic of Crimea," and so she appealed in writing to Sergei Aksyonov.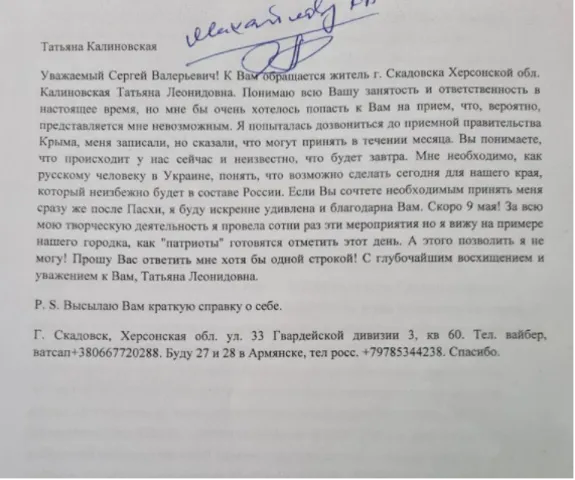 On May 11, Tatiana Leonidovna together with T.N. Sergey Shvayko, head of the district administration of Skadovsk, recorded a video message to the population stating that a coup d'état had taken place in Ukraine, which had led to all the disastrous processes in Ukrainian society, just as many collaborators have already learned the script, saying that the local authorities had left the city and did not care about the people. Tatyana is not embarrassed to say that she has often been rebuked for needing to learn and use the Ukrainian language in her everyday life, although she is more comfortable with the Russian language. She openly declares that all her life she has been waiting for the "Russian world" to come to Ukraine, and she is sincerely happy about it.
27.05.2022 Tatiana Leonidovna stated that Skadovsk is the only city in the region with health resort status. Skadovsk is the only city in the region with resort status, so she suggests that the city and regional administrations of Donetsk and Mariupol send children to recreational procedures.
However, this is just an "official pretext" for later relocating young human potential to the rf.